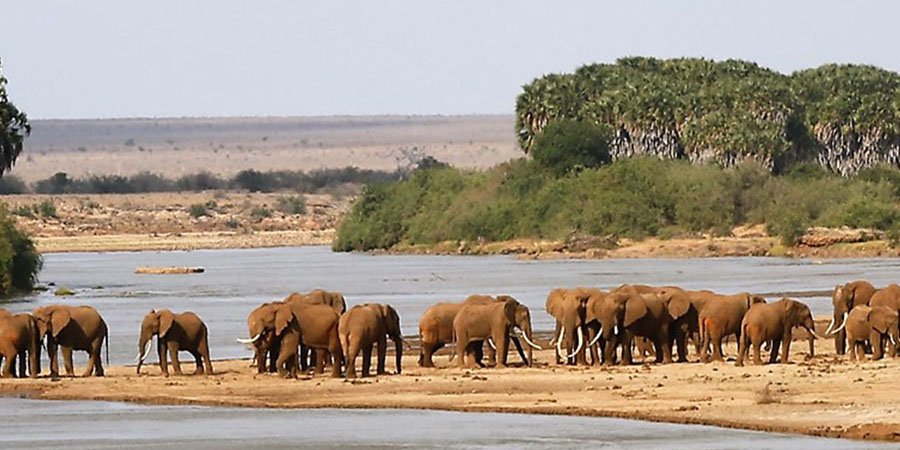 Tsavo West  National Park which is located in the Coastal province of Kenya is more mountainous and wetter than its counterpart, with swamps, Lake Jipe and the Mzima Springs. It is known for bird life and for its large mammal's e.g. black rhino, Cape buffalo, elephant, leopard, hippo and Masai lion. There are also other smaller animals that can be spotted in the park, such as the bush baby, hartebeest, lesser kudu and Maasai giraffe
This park can be accessed through Mtito Gate, Man Eaters Gate, Chyulu Gate and one other near Maktau. Some of the reasons that sets this park apart from the rest include;
Lake Jipe
This lake (pronounced ji-pay) lies at the extreme southwestern end of the park and is reached by a desperately dusty track from near Taveta. Huge herds of elephants come to the lake to drink, and it's particularly good for wildlife near the end of the dry season. Conversely, large flocks of migratory birds stop here from February to May.
Shetani lava flow
When entering Tsavo West through Chyulu gate, one of the first things you see in the park is Shetani lava flow. Shetani means 'devil' in Kiswahili. When the locals first saw 'fire' erupting and 'flowing' on the ground some 500 years ago, they believed that it was the devil himself emerging from the earth. The Shetani black lava flow is 8 km long, 1.6 km wide and 5 meters deep. The sight is quite special and spectacular.
Chaimu crater is a tall rising hill clad in the bright black color of the lava stones. You can climb this recent volcano as there is a path leading to the top. Climbing the hill is not easy as it is not stable and can be slippery. While there's little danger, the KWS does warn in its guidebook to the park that in Chaimu Crater 'be wary when exploring since the crater and lava may shelter snakes and large sleeping mammals'.
Mzima Springs comes from the underground streams flowing from the nearby Chyulu Hills. Mzima in Swahili means 'Life'. It attracts rich wildlife including elephants, hippos, crocodiles, gazelles, zebras and giraffes wandering around the banks through the thick acacias and raffia palms together with a large number of monkeys and birds
The best time to visit: it is usually from May to October when the humidity and temperatures are relatively low. This time is also the tourist peak season in Tsavo and is ideal for game viewing.
Accomodation
Kilaguni Serena Safari lodge
Superbly situated in the lee of Mount Kilimanjaro and sheltered by the volcanic splendour of the Chyulu Hills, this classic stone-built lodge overlooks its own water hole, which is visited daily by elephants, buffalos and a wide variety of plains game. One of the first lodges ever to be built in a national park, the lodge is cool, tranquil and hushed for optimum game-viewing. It is also ideally placed for visits to all the park's prime attractions.
You can book this lodge for 4 Nights-Full board here.